This Portable Retractable Chair Will Keep You

Comfortable & Relaxed

Anywhere!
With one hand only, you can open and fold it in one second, and regardless of your size and weight, you will sit comfortably the entire time. The Retractable Stool is very lightweight and super convenient to carry, which means you will no longer go through the pain of standing.
When standing or walking around for a long time,  if your back aches, your legs hurts, and your feet starts to kill you then this is the perfect chair for you!
Also a great portable chair for the elderly who can use this chair to rest when they feel tired during their walk outdoors.
Incredibly Easy to Carry
Safe & Steady
Unique internal structure design that makes the chair anti-slip, safer and stronger. Sturdy & great ability to support more than 300 lbs/136 kg.
Easy Storage
Exquisite and small that takes up really less floor space. When taking around, you can use it as handheld or hang it in your shoulder.
Easily Adjustable
The best thing about this stool is that the height can be adjusted to suit what ever you are comfortable with, wether it's carrying out garden activities or washing your car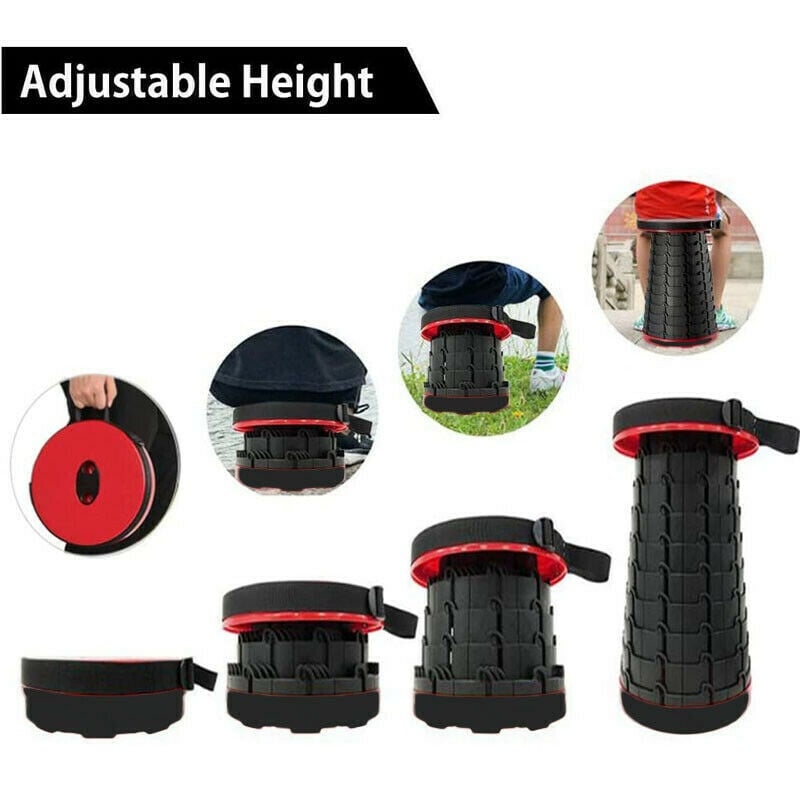 An Absolute Lifesaver!
Can be used anywhere you want, don't miss out on this absolute lifesaver.
Maybe you are queuing up to buy the latest phone, or waiting for the store to open during the discount season, or maybe you're at an outdoor music festival, and it's a lot easier to take a stool with you. We've got a stylish back bag for you to hide this little guy in.
How to Use
Hold the top and bottom with both hands.

Stretch to the desired height.

Rotate clockwise to fix.

Complete the installation.
Product Details: 
Stool Dimensions: 10"(25cm) diameter
Weight: 880g(1.94lbs)
Strap length: 43 inch(109.22cm)
Max stretched height: 18.5 inches(47cm)
Max bearing capacity: 260kg/573Lbs
Available colors: Black, Red,  Yellow, Blue
Material: environmentally friendly material nylon ABS
Package Included:
1 x Simple stool

1 x Carry bag

1 x operation instruction
 ----
Frequently Asked Questions:
Is this stool easy to open and close?
Yes, insert your fingers into two holes on each side and gently twist, then you can open or close it. 
Can this go on an airplane?
It collapses to a small enough size to put in a carry-on luggage.