Keep the Dust and Debris Away with  Our 

Glow in Dark 

Masks☠️
A bit freaky, Yes! Well, on Halloween night, the image of skeletons and skulls are everywhere to be seen!
Features💀
This

 

reusable

 

mouth mask covers your face with a

 

smooth comfortable snug fit

 

to protect your nose, mouth and lungs.
Made using

 

environmental friendly

 

Ice Silk Material,

 

non-toxic, non-irritating,

 

breathable and comfortable
Features elastic ear bands causing

 

no pressure

 

to the ears
This

 

anti dust

 

spooky face mask is

 

washable; can be washed quickly either manually or in the washing machine.
This cloth mask will remain

 

soft, comfortable and durable

 

after each wash and can last you for a very long time.
This mask

 

protects you from breathing in dust, dirt or germs. You can walk, bike, hike, or jog in dusty or polluted areas without worrying about inhaling dust
People who have had intensive skin treatments can also wear this soft cotton face mask to

 

protect their skin from the sun and wind.

 

Can also be worn to protect against cold weather and snow.
Day and Night Effect. These Masks Glow at Night🌙
As face masks continue to be a part of our daily dress, these scary skull face mask is just what you need to make sure you stay covered up, comfortable, and can enter any place that may require a face cover.  Start wearing it to get into the spirit of Halloween. 
🕱Let the Festivities Begin🕱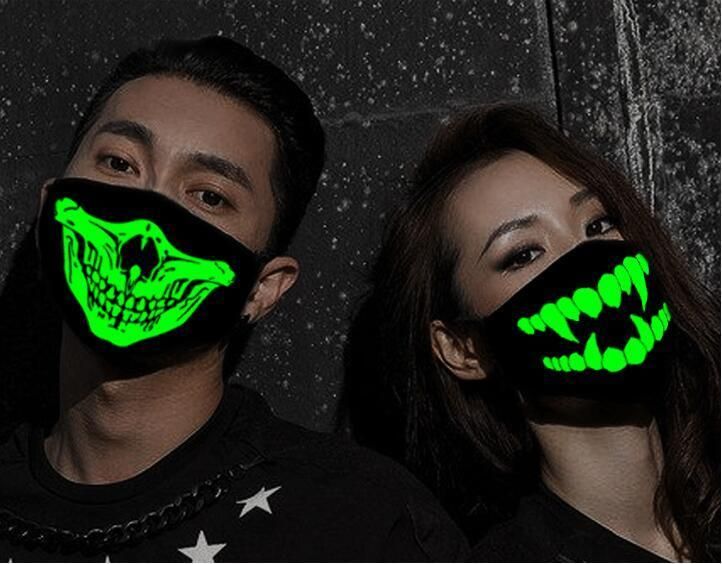 UK Customer will have to pay 20% VAT at checkout.
Glow In Dark Face Masks [2 PCS]
These are light and it was easy to breath with them on. Like the feel of them and the look on them
Glow In Dark Face Masks [2 PCS]
Wife has gotten several compliments on these face masks. Very pleased with quality and style. Shipping was fast.
Glow In Dark Face Masks [2 PCS]
These Halloween themed masks work great. These are just what I was looking for. I can't wear a mask mask but these are so comfy.
Glow In Dark Face Masks [2 PCS]
A mask is a mask but I get LOTS of compliments on these. They are super comfortable.
Glow In Dark Face Masks [2 PCS]
Cute masks, I can actually breathe with this on. Gets plenty of air but still covers my mouth nose and chin. skeleton look, comfortable and still feel protected.